■Congress Venue and Accommodation
RAKO Hananoi Hotel: http://www.hananoi.co.jp
(Japanese only, but the pictures are nice!)
2-1200-3 Takashima, Suwa City, Nagano,Japan 392-0022
TEL:+81-266-54-0555

■Location
The RAKO Hananoi hotel is 5 min by taxi from JR Kamisuwa Station. JR Kamisuwa Station is 2 hr 30 min by Super Express train (Azusa) from JR Shinjuku Station, Tokyo.JR Shinjuku Station can be reached from Narita Airport by either the JR Narita Express train (approximately 1 hr 15 min), or by a limousine bus (1.5 – 2 hr, depending on traffic). Tickets for these can be purchased in the arrival lounge at Narita Airport. Counter staff speak English.
 
■Climate
The temperature in Suwa City during the period of the 1st IPTA Congress is mild to warm, around 18-23° C (64-73° F), with a comfortable level of hu­midity. You will not need an overcoat!
■Currency
The yen (¥) is the currency in Japan. At present, € 1 = approximately ¥143; GB £1 = ¥207; and US $1 = ¥116. Please note that not all banks have a for­eign exchange section, and international credit cards are not accepted in all shops. There is a CitiBank automated teller machine (ATM) on the arrivals level at Narita Airport which accepts all major credit cards, in addition to Plus, Link and Cirrus cards. Most of the major Japanese bank ATMs will ac­cept Visa and Mastercard credit cards. Currency exchange in limited amounts may be available at the Congress hotel, and the hotel will accept most major credit cards in payment of the bill.
■Social Program
Bus tour around beautiful Lake Suwa (included in the Registration Fee) Date: July 1, pick up at the RAKO Hananoi Hotel, 15:00-16:30
| | |
| --- | --- |
| June 30th: | Welcome reception (included in the Registration Fee) |
| July 1st: | Presidential Banquet (included in the Registration Fee) |
| July 2nd: | Farewell Party |
|   | (Invited speakers free, all others ¥8,000 per person) |
■Optional Tour
Bus tour to Kamikochi, the true highlands of the Japanese Alps; monumen­tal mountain peaks, rushing rivers and fabulous forests. Stroll around Kamikochi and work up a good appetite for lunch at the Kamikochi Imperial Hotel
Date: July 3rd, pick up at RAKO Hananoi Hotel at 07:00; drop off at Kami Suwa station (for return to Tokyo) at 15:00
Fare: JP ¥15,000 per person (Lunch included)
 
■Hotel Accommodations
RAKO Hananoi Hotel: http://www.hananoi.co.jp

2-1200-3 Takashima, Suwa City, Nagano, Japan

392-0022

TEL: +81-266-54 -0555

Check-in: 14:00 / Check-out 11:00

Room Rates: Single with bath . . . . . JP ¥9,600

Twin with bath . . . . . . JP ¥17,000

A booking form will appear with the Second Announcement
Hotel Map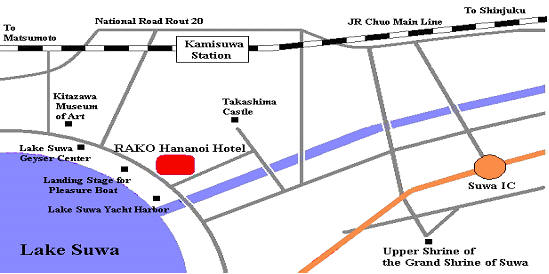 ■Congress Secretariat:
Address: 6525-1 Shimosuwa, Suwagun, Nagano, Japan 393-0093
Tel: +81-266-27-8414 Fax: +81-266-27-7936
E-mail: asagai@shinano-iryo.or.jp